WAPO®Chlor Electrolysis
Safe, reliable & efficient on-site generation of sodium hypochlorite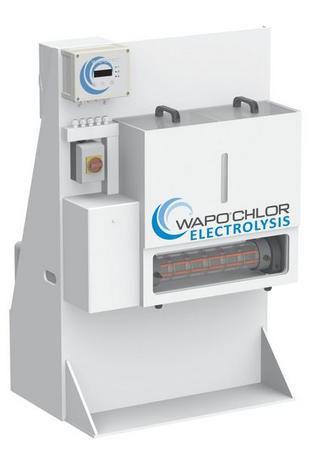 Cost efficient and virtually pH-neutral chlorine generation
No storage of hazardous chemicals
Sizable to infrastructure and operational needs
Remote control through intelligent telemetry
Low cost of ownership and low lifecycle cost
Rental options available
Cost efficient and virtually pH-neutral chlorine generation
The WAPO®Chlor process is highly efficient as the hypochlorite produced is substantially cheaper. Further savings can be achieved through the virtually pH-neutral production which reduces acid demand and helps you save cost and reduce acid handling.
Total savings of up to 70% compared to commercially produced hypochlorite solutions, calcium hypochlorite products or even chlorine gas found, especially when taking safety precautions into account.
No storage of hazardous chemicals
The WAPO®Chlor Unit requires only a small quantity of (electrolysis) salt and electricity.
Membrane-divided systems are producing higher concentrations (off-line) but those need to address all the precautionary measures to be in place. Off-gazing and aging problems are also common with such solutions.
The chlorine (hypochlorite) solution produced on-site by the WAPO®Chlor process is below the 1% hazardous threshold, eliminating regular auditing and management tasks that COSHH regulations would otherwise demand.
Sizable to infrastructure and operational needs
The WAPO®Chlor electrochlorination units are characterized by their clear and straight forward design of all components. Compact and Pro-Series units are preinstalled at the factory and sized to satisfy the chlorine need at the facility. The hypochlorite from one unit can be used for multiple pools, heat exchangers, boiler water or other applications at the same time. The production capacity is available for an hourly demand of 30 to 8500 gram per hour of chlorine equivalent.
A complete WAPO®Chlor electrolysis unit for a typical semi-olympic (25 meter indoor) pool can be arranged on a foot-print of less than 1 square meter.
Choose your individual model between our WAPO®Chlor PRO series and Compact series and customize it to your needs. Take advantage of all key benefits.
Remote control through intelligent telemetry
WAPO®Chlor units are ready to plug and play. Telemetry options are available to enable 1-way or 2-way communication remotely through BUS, Ethernet or GSM interfaces.
Low cost of ownership and low lifecycle cost
WAPO®Chlor electrolysis units have an excellent price/value ratio.
In order to ensure durability and customer satisfaction as well as to minimize maintenance, only high quality components are used for the production of the units.
The electrolytic cell comes with a 5 year pro-rata warranty for your piece of mind.
Rental options available
If you do not wish to invest right now, you can still benefit from the advantages. Just let us discuss about your needs and we can prepare financing, rental or leasing options.