Awards
The secret market leader in advanced pool operation
WAPOTEC has been named a "hidden champion" several times by various WKO organisations. Why? Because as a small company with licences for over 200 patents and 120 registered trademarks and numerous domains, we are a technology leader in our niche market in dozens of countries on five continents and have been impressively demonstrating our internationality for years with an extremely high export share of over 95%.
We stand for genuine product and unique process innovations, sustainable benefits for people and the environment as well as local presence though our global network- this is how we want to position ourselves in traditionally conservative markets and establish ourselves long term.
WAPOTEC® - Awards for sustainable water treatment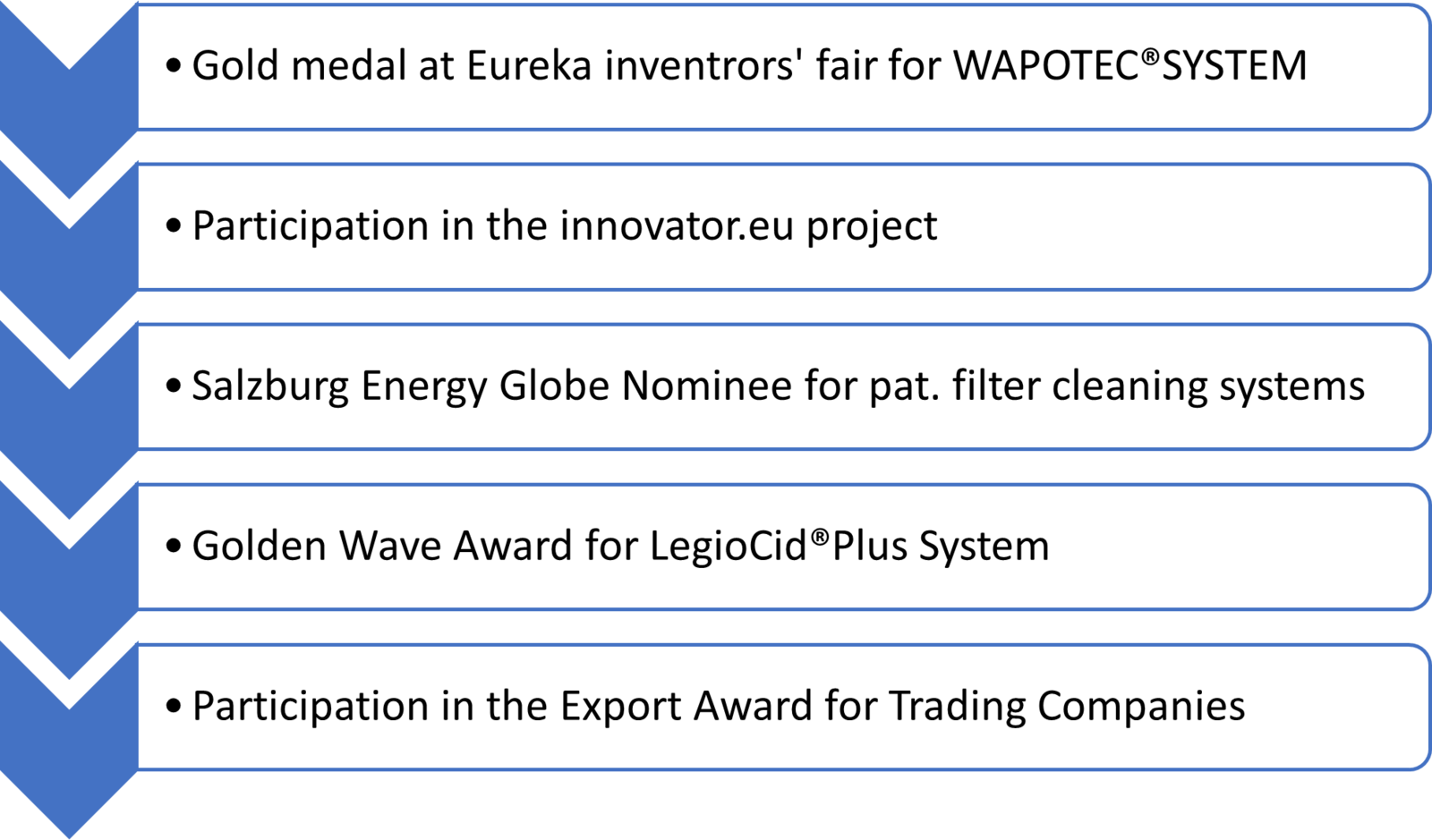 Gold medal at Eureka inventors' fair for WAPOTEC®SYSTEM
WAPOTEC, a member of the WAPOTEC GROUP, is internationally known for its innovative approach to many challenges in water treatment and plant hygiene.
Since 1988 solutions for various problems have been developed and several international patents granted for technologies to optimize treatment processes and to reduce contamination in treatment plants.
The process combination WAPOTEC®SYSTEM consisting of HydroSan® and HydroXan® represents a safe and proven process that offers clear and healthy water for patrons and staff as well as environmental and economic benefits.
WAPOTEC has also been awarded with the EUREKA Gold Medal and the EUREKA Special Price.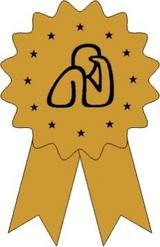 Participation in the innovator.eu project
For several years WAPOTEC has been on the list of innovative companies in the country of Salzburg. Therefore WAPOTEC was invited to participate in the project "innovators. eu" (along with companies from various sectors).
Among them prominent names like Puma, Commend as well as research firms and small companies can be found which have all experienced international recognition with commercial skill and foresight. And they have one thing in common: Every year, they bring innovation to the world market and remained a loyal partner of the domestic business location in Salzburg.
Some may complain about the small and mid-corporate-oriented economy, but just this structural feature has proven to be a stabilizing factor in the past. In an area in which national boundaries become blurred and the international network continues to increase, the province of Salzburg is one of the most dynamic economic regions in Europe.
Building on tradition and regional responsibility entails the ideal economy breeding ground for new and innovative ideas. As a logical consequence the combined presentation of these companies appears on the interactive platform www.innovators.eu, opens new window.
Salzburg Energy Globe Nominee for pat. cleaning systems for filters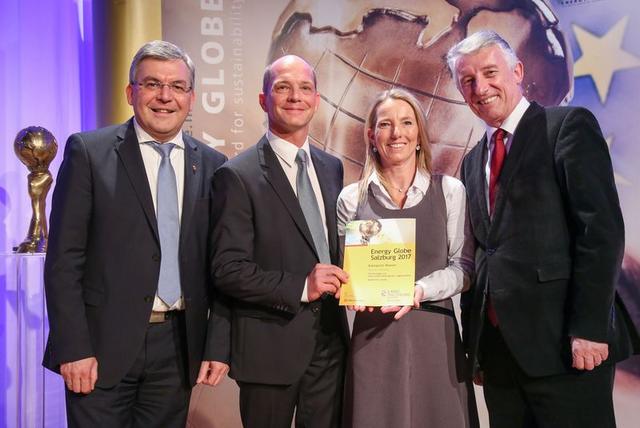 On March 21st, the most sustainable projects in Salzburg/Austria were awarded at the Salzburg Energy Globe Night 2017.
WAPOTEC received a nomination in the category "Water" for its "Technology for cleaning/regeneration of filter media". Criteria for the jury's decision were based on solutions for environmental protection. The nominated projects were presented during the Energy Globe Gala and the winner received the Award in each category.
The nominated WAPOTEC project also suits the agenda of the "World Water Day" to reduce water waste. The international day was introduced in 1992 by the United Nations and is celebrated annually on March 22. Its target is to increase the awareness of the public towards the valuable resource of water and its sustainable use in daily life.
"Water treatment is a key technology for the future" says Gerhard Weiss, CEO of WAPOTEC Austria. In public pools carbon based media are used more often these days but these media can be contaminated easily.
The nominated technology for filter media cleaning and regeneration is only one of many application solutions developped by WAPOTEC which helps operators to save water, energy and treatment agents in their daily routine. The innovative process also helps to improve water and air quality for the benefit of patrons and staff. Cost can be reduced as well.
Award at Golden Wave for LegioCid®Plus System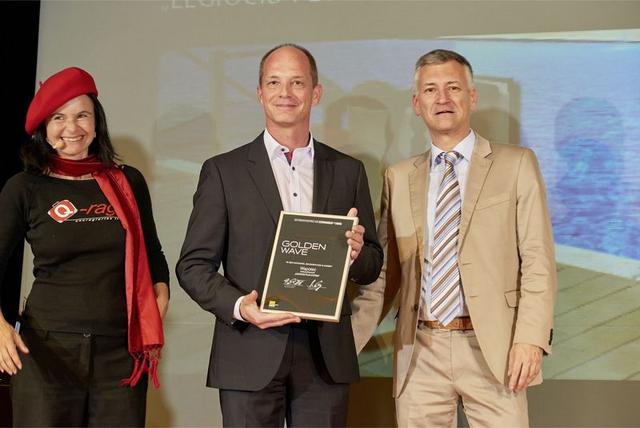 On Thursday, March 30th, 2017, the three best projects in 8 categories of the swimming pool and spa sector were awarded in Ludwigsburg (Germany). The awarded companies (mostly from Germany, Austria, Switzerland, Italy) received a certificate. The best of each category additionally were honoured with the "GOLDEN WAVE" trophy.
Every two years the GOLDEN WAVE nominates are selected by a experts jury.The GOLDEN WAVE is the innovation award of the german trade magazine "Schwimmbad + Sauna". The awards goes to the most innovative products, techniques, processes and customer-friendly solutions in the pool&spa industry.
WAPOTEC® was nominated and awarded for its innovative process "LegioCid®Plus System" in the category "water care and chemistry".
The contamination of filters and filter materials represents increasingly problems for operators. This is particularly apparent when using carbonaceous filter media.
The LegioCid®Plus System is based on a patented process for the cleaning and regeneration of such carbonaceous filter media. The LegioCid® Plus System consists of a pre-cleaning with DesoClean® and a disinfection through the LegioCid®Plus System, whereby contamination of surfaces and cavities can be removed and the effectiveness of carbon-containing filter media can be reactivated.
Finally, the active ingredients can be neutralized and the filters can be rinsed back without polluting the environment.
The process is completed within a few hours without replacing the filter media when the insert is carried out in a closed System by means of a corresponding, temporary or stationary service device. As a result, the LegioCid® Plus System is not only sustainable, but also cost-effective.
Participation in the Export Award for Trading Companies
WAPOTEC has been contributing to Austria's competitiveness and international reputation for decades through its export activities. With consistent research and the development of state-of-the-art technologies, we have earned an international reputation as an innovative specialist in water treatment.
Our key markets in technology transfer and special product distribution are overseas countries. On average over the last three years, we achieved more than 55% of annual turnover (taking into account technology exports) from exports to certain distant markets - with high Austrian value added. In general, turnover from overseas exports amounts to more than 65% of total turnover. About a quarter of the turnover is generated in Austria's neighbouring countries.
On 22 June 2018, WAPOTEC was nominated for the Export Award in the Trade category.